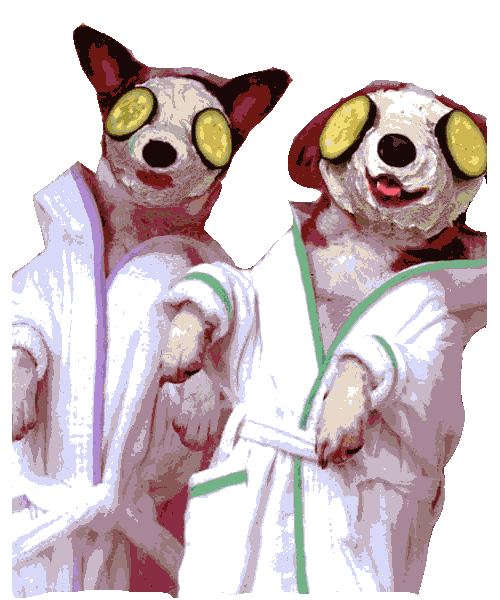 My company is based on the belief that my customer's needs are of the upmost importance. My entire business is committed to meeting those needs and requirements of our customers no matter what! : )
A happy customer is a returning customers : )
Dog and pet grooming will take place in the Parlour , meeting all the customers needs and requirements, Also making sure the dog is happy and relaxed, Many services can be offered to your pet when grooming them so please just ask for what you require and i can make sure it is delivered in the best possible way. If the service you require is not available or can not be preformed on your pet i will do our best to give you as much advice and help that we can.
I believe that good grooming is very much part of the animal's overall health and satisfactory mental wellbeing. I only use recommended professional products for the finest results. The full groom includes: a personal consultation, a full cut styled to suit the breed and lifestyle of your pet. Eyes, teeth, ears and anal gland will be checked on request, and finally a feet and nails trim to achieve a truly all round healthy result.
INDIVIDUAL APPOINTMENTS
I feel that dogs benefit from individual appointments ( 1 to 1 grooming ) so they get my undivided attention and your dog is in a stress free environment. The whole groom of your dog is done by myself from start to finish not by lots of different members of staff. I do individual appointments i run to a strict time schedule your dog will be in my care for approx. one to two hours while grooming takes place in the comfort of Poochie Palace.
During your visit to the Poochie Palace Pet Spa your dog will be pampered to the highest standards. my aim is to treat everypawdy just like a prince or princess or as we say pooch and poochette
Each dog will receive a full pamper spa session starting from just £30!
yes that's right just £30 for FULL spa session
This will include :
A full bath and body massage with some of our fantastic range of shampoos
A luxury blow dry
A full hair cut to owners specification
Nails clipped
Ears cleaned and plucked
With a finishing spritz of long lasting doggy cologne.
Lots of other pamper packages are on offer including the fantastic doggy Jacuzzi.
great for treating your best friend to a spa day, perfect for the golden oldie in your life to help relax their joints and any aches & pains and is amazing for the pooches with irritated skin conditions. with the right shampoo mixed with some TLC your dog can enjoy a 15 min Jacuzzi bath which also includes a massage.
Here at Poochie Palace cages, cage driers & restraints are a very big NO NO!
I do not believe in forcing a dog to sit in a place they are not happy or familiar with, forcing a blow drier on them whilst trapped in a cage is not fair and is NOT necessary. All dogs will be hand dried from start to finish on the table by a groomer
Although I show my dogs and they use cages and travel in cages not all dogs like to go on a cage, it can upset them and also upset the owners.
Especially during their grooming experience, the dog is already tense and nervous so putting them in a cage wont help this, just like at the vets, nor will restraining them and holding them still in place with restraints whilst they are groomed, if a groomer has to force a dog to stand still they are not doing their job properly! you as a groomer should make all dog feel at ease and groom the dog in its most comfortable position at all times
I do not believe in making a dog do something they do not like, training and introducing your dog to new things is the way forward. so whilst your pooches are with me at Poochie Palace they will be treated like royalty and of course you are welcome to stay with us while we groom your dog.
/